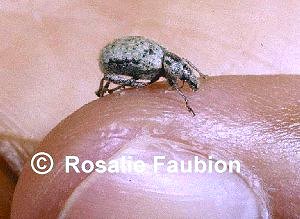 Doyen's dune weevil
Trigonoscuta sp.
Photo by Rosalie Faubion
Status
U.S.A. Candidate for Listing
Life History
Little is known about the biology or habits of dune weevils of the genus Trigonoscuta other than they are restricted to sandy soils of unstabilized dunes or similar accumulations of sand. Flightless and nocturnal, weevils in this genus are associated with a wide variety of plant types; the larvae feed on the roots and the adults on the leaves.
The coastal species of Trigonoscuta seem to be active year-round, whereas the desert species seem to be less active in the winter months. Females have been found ovipositing in April; first instar larvae also have been found in April. Development and number of instars is not known. Nothing specific is known of the activity cycle of Doyen's dune weevils except that they are easily found within the upper layers of soil only in the wetter winter and early spring months.
The primary threats to this species are the random effects of environmental and population processes facing all small, single populations. Other threats include off-road vehicle use and road widening, sand stabilization, or other highway maintenance activities by Caltrans.
Distribution
All Trigonoscuta species are associated with either coastal, desert, or other inland sand dunes. Most inland species of the genus are found in the southwestern deserts. In the early 1960's, Dr. Ellbert L. Sleeper, California State University, Long Beach, discovered a population of sand dune weevils on a single sand dune in the Los Medanos area, just south of Kettleman Station in Kings County. The same population was discovered independently several years later by Dr. John T. Doyen of University of California, Berkeley. Since then, extensive surveys by different parties at sites where the species might be expected to occur, from Kettleman Station north to the Panoche Hills, have failed to locate another population. Based on the negative results of these surveys and several other factors involving the evolutionary history of the weevil and its habitat, it is highly unlikely that this wingless beetle has had a significantly wider distribution in the recent past.
According to Dr. Sleeper, this solitary population of dune weevils is found on an open "slip-face", covering about 200 m2 (239 yd2) of a modified, vegetated relict dune. Based on surveys in April 1993, the population was estimated to contain 150 to 200 individuals.
Classification
Order COLEOPTERA, Family CURCULIONIDAE, Genus Trigonoscuta, Species not yet named
Doyen's dune weevil has not been formally described in the reviewed literature, but the name Trigonoscuta "doyeni" has appeared in manuscripts, government reports, and the Federal Register.
Subspecies
None.
Recent Synonyms
None.
Other Common Names
None.
References
Scarabaeus Associates. 1989. Biological inventory for the endangered species Coelus gracilis Blaisdell 1939, Aegialia concinna Gordon & Cartwright 1977, and Trigonoscuta doyeni (M.S.). U.S. Fish and Wildlife Service, Sacramento, CA, Final rep., 22 pp; Pierce, W. D. 1975. The sand dune weevils of the genus Trigonoscuta with a correlation of their anatomy to the geological history of our coast lines. L.A. Co. Nat. Hist. Museum, Los Angeles, CA, 77 pp.
Size
Length:
4.5 -7.0 mm
Identification
Doyen's dune weevils are grayish to sandy colored and oval, but are slightly lighter in color than coastal species of Trigonoscuta.
Authors of Profile
N. L. Brown, C. D. Johnson, and D. F. Williams