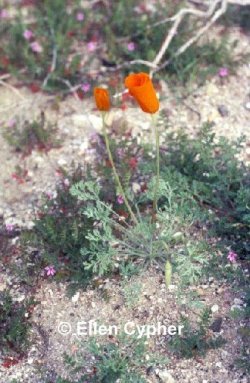 Tejon poppy
Eschscholzia lemmonii ssp. kernensis
Status
Not listed. California Native Plant Society List 1B.
Life History
This annual herb flowers from March to April. Details of the life history are not known, but Tejon poppy populations are conspicuous only in years of above-average precipitation. Tejon poppy grows on adobe clay soils in sparsely-vegetated grasslands between 250 and 600 m in elevation. Tejon poppy has been observed in association with Kern brodiaea (Brodiaea terrestris ssp. kernensis), sunset lupine (Lupinus microcarpus var. horizontalis), and Comanche Point layia [CL], among other species.
The deeply-divided leaves of Tejon poppy are mostly clustered at the base of the plant. Each flowering stem is taller than the leaves and bears a single erect, hairless bud that develops into a showy, orange flower with four petals. Tejon poppy lacks a rim-like appendage below the flower. The cylindrical fruit is elongated and contains many tiny, rough seeds.
Distribution
Tejon poppy is restricted to Kern County. It occurred historically in six areas in the low hills that surround the southern tip of the San Joaquin Valley, from Dry Bog Knoll (between Bakersfield and Woody) on the northeast to Elk Hills on the northwest. Tejon poppy has not been reported since 1969 but is assumed to remain in all areas where it was reported formerly because habitats have not been modified substantially.
Classification
Subclass MAGNOLIIDAE, Order PAPAVERALES, Family PAPAVERACEAE, Genus Eschscholzia, Species lemmonii
Subspecies
Tejon poppy is one of two subspecies of Eschscholzia lemmonii. The other is Lemmon's poppy, Eschscholzia lemmonii ssp. lemmonii.
Recent Synonyms
Eschscholzia caespitosa ssp. kernensis
Other Common Names
Tejon Ranch poppy
References
Twisselmann, E.C. 1967. A flora of Kern County, California. University of San Francisco, San Francisco, CA, 395 pp.; Twisselmann, E.C. 1969. Status of the rare plants of Kern County. California Native Plant Society Newsletter 5(3):1-7; Clark, C. 1986. Eschscholzia lemmonii subsp. kernensis (Papaveraceae), a new combination for the Tejon poppy. MadroZo 33:224-225; Clark, C. 1993. Papaveraceae. Pp. 810-816 in The Jepson manual: higher plants of California (J.C. Hickman, ed.). University of California Press, Berkeley, 1400 pp.; Skinner, M.W., and B.M. Pavlik, eds. 1994. Inventory of rare and endangered vascular plants of California. Fifth edition. Spec. Publ. No. 1, California Native Plant Society, Sacramento, 338 pp.; Rarefind, California Natural Diversity Data Base, Sacramento.
Size
Height:
5-30 cm Flower:
2-4 cm long
Fruit:
3-7 cm long
Seed:
1.3-1.8 mm wide
Identification
Unlike Tejon poppy, Lemmon's poppy has nodding, hairy buds and California poppy (E. californica) has a conspicuous, flared rim beneath the flower. Tufted poppy (E. caespitosa) has smaller, yellow flowers and smoother seeds.
Authors of Profile
E.A. Cypher