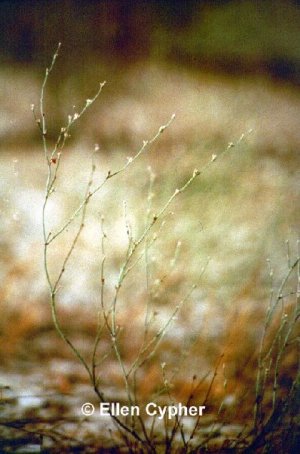 Temblor buckwheat
Eriogonum temblorense
Status
Not listed. California Native Plant Society List 4
Life History
Temblor buckwheat is an annual, but it differs from most annuals of the San Joaquin Valley in that it flowers during the hottest part of the year, from May through September. Other aspects of its life history are unknown. Temblor buckwheat typically occurs on slopes of white, shattered shale and occasionally on sandstone. The shale areas are dry and nearly barren of other vegetation, but California buckwheat (Eriogonum fasciculatum), sun cups (Camissonia californica), and Booth's evening-primrose (C. boothii) may be present. The type locality in Chico Martinez Canyon, Kern County, supported a saltbush scrub plant community.
Temblor buckwheat varies in height depending on annual precipitation. The elongated, spreading branches bear flowers only at their tips, where several tiny, white flowers are clustered inside a cup-like structure. Leaves occur primarily at the base of the plant and are densely covered with matted hairs on both surfaces. Individual plants may vary in appearance from spring to fall, with the blades rounded early in the year and more elliptical later. The fruits are small and single-seeded.
Distribution
The range of Temblor buckwheat apparently always has been restricted. The historical distribution included eight areas of the inner Coast Ranges: Chico Martinez Canyon and the Shale Hills in Kern County; Indian Valley, Parkfield Grade, and Stone Canyon in Monterey County; and Polonio Pass, Cottonwood Pass, and the Shandon area in San Luis Obispo County. The historical occurrences have not been revisited in recent years but are believed to be extant. Another center of occurrence was discovered on the Elkhorn Plain, San Luis Obispo County, in 1995. All reported sites for Temblor buckwheat are below 1,000 m.
Classification
Subclass CARYOPHYLLIDAE, Order POLYGONALES, Family POLYGONACEAE, Genus Eriogonum, Species temblorense
Subspecies
None.
Recent Synonyms
Eriogonum eastwoodianum (in part; see Hoover 1970).
Other Common Names
None.
References
Twisselmann, E.C. 1967. A flora of Kern County, California. University of San Francisco, San Francisco, CA, 395 pp.; Hoover, R.F. 1970. The vascular plants of San Luis Obispo County, California. University of California Press, Berkeley, 350 pp.; Hickman, J.C. 1993. Polygonaceae. Pp. 854-895 in The Jepson manual: higher plants of California (J.C. Hickman, ed.). University of California Press, Berkeley, 1400 pp.; Reveal, J.L. 1989. Eriogonoid flora of California (Polygonaceae). Phytologia 66:295-414; Skinner, M.W., and B.M. Pavlik, eds. 1994. Inventory of rare and endangered vascular plants of California. Fifth edition. Spec. Publ. No. 1, California Native Plant Society, Sacramento, 338 pp.
Size
Height:
10 to 80 cm
Flower:
2 mm
Fruit:
2-3 mm
Identification
Temblor buckwheat is differentiated from Eastwood's buckwheat (E. eastwoodianum) and Idria buckwheat (E. vestitum) by the placement of the leaves and the size and surface texture of certain flower parts. The spring form of Temblor buckwheat closely resembles Eastwood's buckwheat; mature plants are necessary for identification.
Authors of Profile
E.A. Cypher