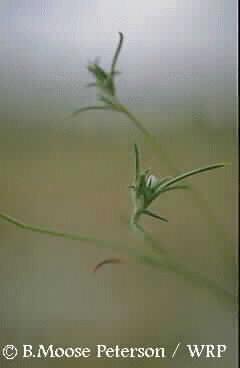 Hoover's woolly-star
Eriastrum hooveri
Status
U.S.A. Delisted
Life History
Hoover's woolly-star is an inconspicuous member of the phlox family. The wiry stems of this species may or may not branch. The leaves are thread-like and may have two narrow lobes near the base. Tiny, white to pale blue flowers are nearly hidden in tufts of woolly hair. The stamens (male reproductive parts) are shorter than the corolla (set of petals).
Seeds of Hoover's woolly-star germinate later in the growing season than do those of many of the associated annual plants. Seedlings may emerge from January or February until mid-April. The typical flowering period extends from March into June. The tiny seeds probably are dispersed by wind or by tumbling of dead stems. Unlike many other annuals, dead stems of Hoover's woolly-star may persist until the next growing season.
Hoover's woolly-star is one of the more adaptable plant species restricted to the San Joaquin Valley. Optimal habitats for this species are characterized by stabilized silty to sandy soils, a low cover of competing herbaceous vegetation, and the presence of cryptogamic crust (a layer of moss, lichen, and algae). However, it has also been found on loamy soils, in areas of dense vegetation, and in areas lacking cryptogamic crust. Hoover's woolly-star may reinvade disturbed soil surfaces such as well pads and dirt roads within 1 year after the disturbance ceases if seed sources remain in the vicinity. In fact, this species may benefit from some soil disturbance in areas that are densely vegetated by exotic plants. Reported elevations for this species range from 50 to 915 m (164-3,002 ft).
Populations of Hoover's woolly-star occur in alkali sinks, washes, on both north- and south-facing slopes, and on ridgetops. This species occurs in a wide variety of plant communities. Most are characterized by shrubs such as common saltbush (Atriplex polycarpa), seepweed (Suaeda moquinii), and matchweed (Gutierrezia californica), but shrub cover in occupied habitats typically is less than 20%. Herbaceous plant species frequently found in association with Hoover's woolly-star include red brome (Bromus madritensis ssp. rubens), goldfields (Lasthenia spp.), many-flowered eriastrum (Eriastrum pluriflorum), and red-stemmed filaree (Erodium cicutarium).
Distribution
Prior to 1986, Hoover's woolly-star was known from 19 sites in Kern, Fresno, Santa Barbara, and San Luis Obispo counties. The majority of the occurrences were on the San Joaquin and Cuyama Valley floors, and the others were from the low mountains at the west side of the San Joaquin Valley.
Since 1986, Hoover's woolly-star has been discovered in Kings and San Benito counties and at numerous additional sites in the four original counties, particularly in foothill areas. Most of the occurrences are concentrated in four metapopulations. These metapopulations are: (1) the Kettleman Hills in Fresno and Kings counties; (2) Carrizo Plain-Elkhorn Plain-Temblor Range-Caliente Mountains-Cuyama Valley-Sierra Madre Mountains in San Luis Obispo, Santa Barbara, and extreme western Kern counties; (3) Lokern-Elk Hills-Buena Vista Hills-Coles Levee-Taft-Maricopa in Kern County; and (4) Antelope Plain-Lost Hills-Semitropic Ridge in Kern County. Small, isolated populations occur in scattered areas including the Alkali Sink Ecological Reserve and the Guijarral, Jacalitos, Panoche, and Tumey hills in Fresno County; and Buttonwillow, Devil's Den, Lamont, Midway Valley, and Rosedale in Kern County.
Valley-floor populations of Hoover's woolly-star have been destroyed primarily by farming operations and secondarily by urban development. Current existing threats to this species include commercial development, flooding, dense growth of associated vegetation, and expansive petroleum production.
Classification
Order SOLANALES, Family POLEMONIACEAE, Genus Eriastrum, Species hooveri
Subspecies
None.
Recent Synonyms
None.
Other Common Names
Hoover's eriastrum, Hoover star-flower.
References
California Natural Diversity Database, Sacramento; Patterson, R.W. 1993. Eriastrum. Pp. 826-828, in The Jepson Manual: higher plants of California (J.C. Hickman, ed.). Univ. California Press, Berkeley, 1400 pp.; Skinner, M.W., and B.M. Pavlik, eds. 1994. Inventory of rare and endangered vascular plants of California. Fifth edition. Spec. Publ. No. 1, California Native Plant Society, Sacramento, 338 pp.
Size
Stem length:
1-20 cm (0.4-8 inches)
Flower length:
< 5 mm (< 0.2 inches)
Identification
Many-flowered eriastrum (Eriastrum pluriflorum) frequently occurs with Hoover's woolly-star; the former has dark blue flowers that are 16 mm (0.6 inches) or greater in length, stamens that protrude from the corolla and leaves with up to 10 lobes (whereas Hoover's woolly-star has flowers that are white to pale blue). Small-flowered Eriastrum species that occur within the same range are distinguished from Hoover's woolly-star by flower color and stamen length.
Authors of Profile
T.M. Sandoval and E.A. Cypher