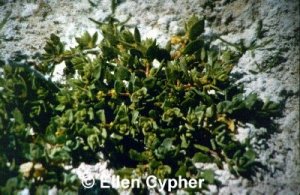 Lost Hills crownscale
Atriplex vallicola
Status
Not listed. California Native Plant Society List 1B.
Life History
Lost Hills crownscale is an annual that flowers from May to August. Other aspects of its life history have not been studied. The short stems have few branches and alternate, egg-shaped leaves with entire margins. The individual flowers are inconspicuous because they are tiny and have no petals. Male and female flowers are mixed in small clusters in the upper leaf axils. The fruiting bracts are broadly triangular, irregularly toothed, and may or may not have tubercles (warty projections). Each pair of bracts encloses a flattened, dark brown seed.
Lost Hills crownscale typically grows in the dried beds of alkaline pools within scrub or annual grassland communities, although one population in southern Kern County occurs on exposed slopes rich in gypsum. The associated species most frequently reported with Lost Hills crownscale are spiny saltbush (Atriplex spinifera), common saltbush (Atriplex polycarpa), seepweed (Suaeda moquinii), and the grasses red brome (Bromus madritensis ssp. rubens) and annual fescue (Vulpia microstachys).
Distribution
Historical locations for Lost Hills crownscale were in Fresno, Kern, and San Luis Obispo counties. Two large centers of concentration remain today. One overlaps the Kern-Kings county boundary near the community of Lost Hills, and the other is on the Carrizo Plain in San Luis Obispo County. Much smaller populations are known from the Kerman Ecological Reserve in Fresno County, the Lokern-McKittrick area of Kern County, and southwestern Merced County. Other historically-known occurrences and much suitable valley-floor habitat have been destroyed by conversion to agriculture. Extant valley-floor populations occur at elevations of 50 to 85 m, whereas those on the Carrizo Plain and south of McKittrick range from approximately 400 to 600 m in elevation.
Classification
Subclass CARYOPHYLLIDAE, Order CARYOPHYLLALES, Family CHENOPODIACEAE, Genus Atriplex, Species vallicola
Subspecies
None.
Recent Synonyms
None.
Other Common Names
Lost Hills saltbush
References
Skinner, M.W., and B.M. Pavlik, eds. 1994. Inventory of rare and endangered vascular plants of California. Fifth edition. Spec. Publ. No. 1, California Native Plant Society, Sacramento, 338 pp.; Taylor, D., and D. H. Wilken. 1993. Atriplex. Pp. 501-505 in The Jepson manual: higher plants of California (J.C. Hickman, ed.). University of California Press, Berkeley, 1400 pp.; Olson, T.E., and D.L. Magney. 1992. Distribution of sensitive plant and wildlife species along transmission line corridors in southwestern San Joaquin Valley, California. Pp. 169-184 in Endangered and sensitive species of the San Joaquin Valley, California: their biology, management, and conservation ( D.F. Williams, S. Byrne, and T.A. Rado, eds.). California Energy Commission, Sacramento, 388 pp.; Hoover, R.F. 1938. New Californian plants. Leaflets of western botany 2:130-131; Rarefind, California Natural Diversity Data Base, Sacramento.
Size
Height:
2-20 cm
Seed:
1-1.5 mm in diameter
Identification
Lost Hills crownscale differs from crownscale (A. coronata) and heartscale (A. cordulata) primarily in the shape and size of the fruiting bracts.
Authors of Profile
E.A. Cypher