NOTE: Sorry, we are now all out of bat posters
Bats of the Western United States
by
Troy L. Best, Michael J. Harvey, and J. Scott Altenbach
featuring photographs by
J. Scott Altenbach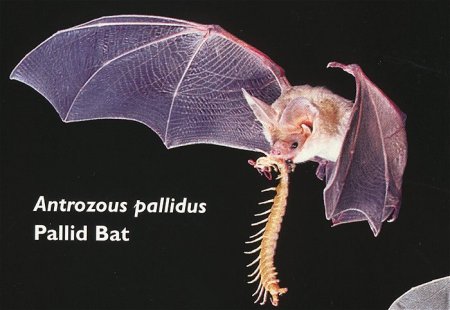 Scanned from Actual Poster
(image width approximately 3.5 inches)
The Bats of the Western United States poster (36 inches high by 24 inches wide) has color images of all 35 species of bats known to occur in the western U.S. The reverse side of the poster contains 15 paragraphs of "Bat Facts;" short accounts of each of the 35 species; and 35 maps showing the generalized geographic range of each species in the western U.S. Species accounts include information on size, distribution, ecology and behavior, food habits, reproduction, and population status. Also included are short bibliographies on bats for "older" and "younger" students. Twenty-two cooperators, including state, federal, and private entities contributed to production of the posters.
Posters, in sets of two, are available for the cost of shipping and handling. There is a limit of one set per person. There is a $10.00 (U.S.) fee to cover postage, packaging, and handling for orders in the U.S. Please contact us by email before ordering posters to be shipped outside the U.S. Make check or money order payable to California State University, Stanislaus (or CSU Stanislaus) and send with shipping address to:
Endangered Species Recovery Program
Department of Biological Sciences
California State University, Stanislaus
One University Circle
Turlock, California 95382
Please do not send cash or payment in foreign currencies.