3. Lost Hills Saltbush (Atriplex vallicola)
Taxonomy.-- Lost Hills saltbush has retained the scientific name Atriplex vallicola since Hoover (1938) first described it. However, according to Taylor and Wilken (1993) a more appropriate rank for Lost Hills saltbush may be as a subspecies of crownscale (A. coronata). Another common name for A. vallicola is Lost Hills crownscale (Taylor and Wilken 1993). The type locality for Lost Hills saltbush is 8 kilometers (5 miles) north of the Lost Hills oil field, in Kern County (Hoover 1938). Plants from the Carrizo Plain may represent an undescribed subspecies of A. vallicola (Taylor and Wilken 1993, Skinner and Pavlik 1994).
Description.-- Lost Hills saltbush reaches a maximum height of only 20 centimeters (8 inches). The male and female flowers are mixed in small clusters in the upper leaf axils. The fruiting bracts are broadly triangular, irregularly toothed, and may or may not have tubercles. Lost Hills saltbush differs from crownscale primarily in the shape and size of the bracts (Hoover 1938, Taylor and Wilken 1993).
Historical Distribution.-- Prior to 1980, Lost Hills saltbush was reported from three general areas: north of Lost Hills (CDFG 1995), Mendota in Fresno County (Hoover 1938), and the Carrizo Plain in San Luis Obispo County (Hoover 1970).
Current Distribution.-- In the 1980s, a number of additional sites were discovered, and the species was confirmed to be extant near Lost Hills and on the Carrizo Plain (Figure 20). The centers of concentration currently known are: (1) Lost Hills to extreme southern Kings County; (2) the Kerman Ecological Reserve in Fresno County; (3) the Soda Lake region of the Carrizo Plain; (4) the Lokern- McKittrick area of Kern County; and (5) southwestern Merced County (Olson and Magney 1992, Skinner and Pavlik 1994, CDG 1995). The Lost Hills and Carrizo Plain centers of concentration represent large (greater than 10,000 plants) metapopulations, but most other sites had only a few hundred individuals or fewer in 1993 (CDFG 1995).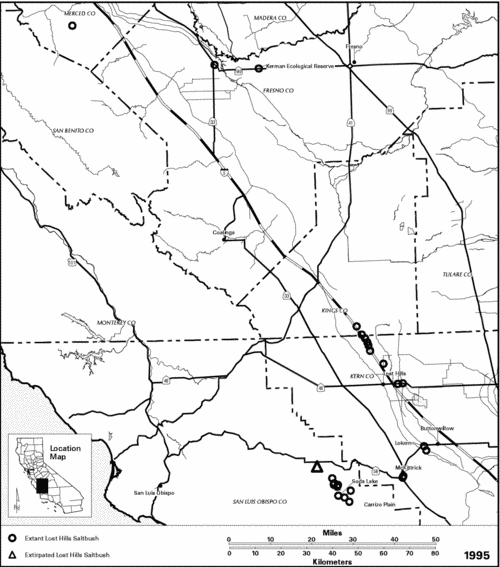 Figure 20. Distribution of Lost Hills saltbush (Atriplex vallicola).
Life History and Habitat.-- Lost Hills saltbush is an annual that flowers from May to August (Skinner and Pavlik 1994). Other aspects of its life history have not been studied. This species occurs in the Valley Sink Scrub, Valley Saltbush Scrub, Nonnative Grassland, and Alkali Meadow natural communities. At most sites, Lost Hills saltbush grows in the dried beds of alkaline pools, but one population south of McKittrick occurs on exposed slopes rich in gypsum. Associated species include common saltbush, spiny saltbush, alkali heath, saltgrass, and seepweed. Valley-floor populations occur at elevations of 50 to 85 meters (165 to 280 feet), whereas those on the Carrizo Plain and south of McKittrick range from approximately 400 to 600 meters (1,300 to 2,000 feet) in elevation (Hoover 1938, Olson and Magney 1992, CDFG 1995, California Native Plant Society 1988a).
Reasons for Decline and Threats to Survival.-- Two occurrences of Lost Hills saltbush, one near Lost Hills and one on the Carrizo Plain, were eliminated by agricultural conversion. Trampling by livestock degraded habitat for this species at several sites. One of the largest occurrences (near Soda Lake) is on private land that has been partially cleared for a mobile home. Currently, the Lost Hills center of concentration is in the greatest danger of elimination; it is on private land in an area valuable for commercial development and agriculture. In addition, flooding for waterfowl management poses a threat in the vicinity of Lost Hills. The population south of McKittrick faces potential threats from petroleum production, off-road vehicle activity, and the installation and maintenance of an electric transmission line (Skinner and Pavlik 1994, CDFG 1995, California Native Plant Society 1988a).
Conservation Efforts.-- Although Lost Hills saltbush has not been the subject of direct conservation efforts, it has benefited indirectly from acquisition directed at other species. Much of the land around Soda Lake has been purchased by USBLM as part of the Carrizo Plain Natural Area. Soda Lake is included in the Carrizo Plain Area of Critical Environmental Concern (USBLM 1993), and grazing is not allowed in that area currently (Doran in litt. 1993). One occurrence in Lokern now is on Center for Natural Lands Management land, and the Kerman Ecological Reserve is managed by CDFG. Additional lands in the Lost Hills and Lokern areas may be protected if the Kern County Valley Floor Habitat Conservation Plan is implemented as planned, but no specific measures are provided for the conservation of Lost Hills saltbush (T. James pers. comm.). Floristic surveys of Naval Petroleum Reserve-1 in California (now Occidental of Elk Hills) may reveal populations of Lost Hills saltbush in suitable habitats on the margins of Elk Hills (J. Hinshaw pers. comm.).
Conservation Strategy.-- The most important task for conservation of Lost Hills saltbush is to protect existing populations on private land from ongoing threats. To do so, sites must be secured through conservation easements or acquisition, and public agencies must agree to protect habitat on lands under their control. Lost Hills saltbush can benefit from recovery actions directed at the listed plant and animal species, many of which occur in the same areas. Surveys must also be conducted in suitable habitat. Because it is inconspicuous and difficult to identify, Lost Hills saltbush may have been overlooked, even in areas already set aside for conservation purposes. If at least five distinct populations representing the full geographic range of the species are protected and managed to promote the continued survival of Lost Hills saltbush, long-term conservation should be ensured. Protected areas should be ntural land in blocks of at least 65 hectares (160 acres) and should contain a minimum of 1,000 individuals to reduce the likelihood of extinction from intrinsic or random processes. Taxonomic research should be done to determine the appropriate rank and affinities of Lost Hills saltbush, including the entity on the Carrizo Plain. When surveys have been completed, or at a maximum within 10 years of recovery plan approval, the status of Lost Hills saltbush should be reevaluated.