Effects of Livestock Grazing on a Community of Species at Risk of Extinction in the San Joaquin Valley, California
The principal agencies and organizations conducting this research are the Biological Resources Division of the U.S. Geological Survey, the CSU Stanislaus Endangered Species Recovery Program (ESRP) and the Bureau of Land Management. Many additional agencies, organizations, and corporations are helping to support the project by providing funding, labor or supplies. Our overall objective is to determine whether annual grasslands in the San Joaquin Valley can be managed with cattle grazing for the benefit of a suite of endangered, threatened and rare species.
The study site is the Lokern area of Kern County. Federally or state-listed species inhabiting the study area include Kern mallow (Eremalche kernensis), giant kangaroo rat (Dipodomys ingens), San Joaquin antelope squirrel (Ammospermophilus nelsoni), San Joaquin kit fox (Vulpes macrotis mutica) and blunt-nosed leopard lizard (Gambelia sila). Several species of concern also occur in the area. Baseline data collection began in 1997 and cattle grazing began in the winter of 1997-1998. Data on the abundance of endangered plants and animals and the composition of associated vegetation will be collected annually through at least 2002. Research Ecologist Dr. Ellen Cypher of ESRP is directing the aspects of the research involving Kern mallow and other vegetation.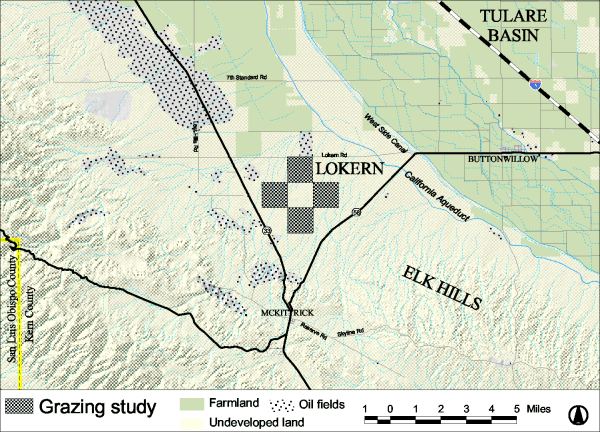 Preliminary results indicate that cattle grazing has reduced the amount of residual dry matter on treatment plots. The abundance of Kern mallow, small mammals and lizards has been variable among study plots and between years. Other factors such as weather and a wildfire may be confounding any treatment effects. Several additional years of data collection will be necessary before conclusions can be drawn regarding the effect of grazing on this suite of species. Additional information on this project, including the study design and annual reports are available from the Western Ecological Research Center.