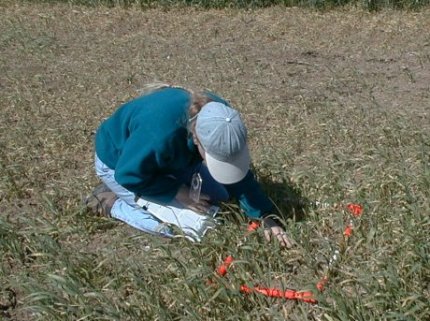 Former LRDP coordinator Michelle Selmon conducting vegetation monitoring.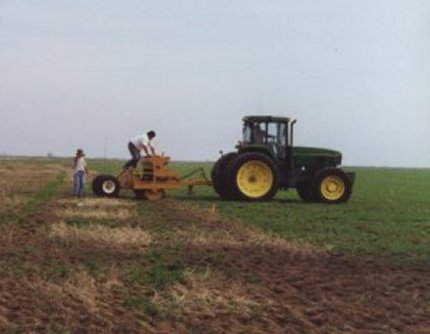 Seeding experimental plots with an imprinter.
Restoration Research
Introduction
During the course of the Demonstration Project, ESRP conducted a variety of restoration trials and undertook restoration of portions of the Tranquillity property. Additionally, various strategies were practiced on portions of the property. A list of the restoration trials is presented below; highlighted links lead to a brief description of the trial. Descriptions and results for many of the trials have been presented in a series of Annual Reports (you can access the reports here).
Catalog of Restoration Research
2000-01 Growing Season
2001-02 Growing Season
2002-03 Growing Season
2003-04 Growing Season
2004-05 Growing Season
2005-06 Growing Season
Herbicide and Charcoal Treatment Trial (Year II)
Herbicide and Charcoal Treatment - Multi-species Demonstration Area
Planting Techniques Trial (Year III)
Native and Invasive Biomass Trial
Page last updated: August 5, 2009