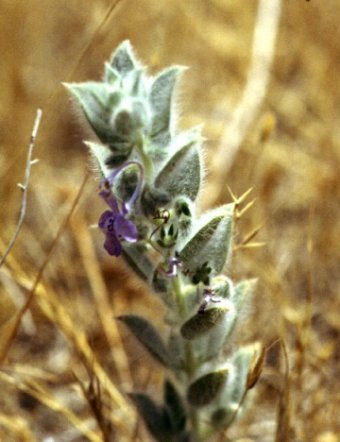 Trichostema ovatum (San Joaquin bluecurls), a rare San Joaquin Valley annual that is endemic (i.e., limited to) California.
Restoration Data and Restoration Links
Data and Reports
Synthesis Report
Land Retirement Demonstration Project annual reports
Comprehensive reports detailing the activities and findings of the LRDP were prepared and submitted at approximately annual intervals. Electronic copies of these reports can be accessed below.
Land Retirement Demonstration Project Five Year Report
The Five Year Report can be accessed online from the Bureau of Reclamation's website here. This report can also be downloaded in it's entirety as a *.pdf file from here (please note that this is a large file: 4818 KB).
---
LRDP Photo Gallery
Follow this link to view an online gallery of images from the Atwell Island and Tranquillity Land Retirement Demonstration Project sites. Photos include both on the ground restoration activities, and some nice images of species of interest.
---
Precipitation at Tranquillity
Follow this link to see an overview of precipitation at Tranquillity during the course of the Land Retirement Demonstration Project (1997-2005) and the duration of native plant propagation activities (2001-2008).
---
Online Presentations
The Status of Native Seed Sources in the Western San Joaquin Valley (California)
This online PowerPoint Presentation is based on a talk given at the 2005 SERCAL Annual Conference (Ritter, N.P., C.E. Uptain, and P.A. Kelly. 2005. The Potential for Using Locally-collected Seed in San Joaquin Valley Restoration. SERCAL 12th Annual Conference. Bass Lake, CA). This presentation has been optimized for viewing in the following resolutions:
This presentation posted online: 12/22/2005; last updated: 1/09/2006
---
Presentations and Posters
Throughout the course of the Land Retirement Demonstration Project, ESRP staff, the members of the Land Retirement Team, and various collaborators on the project have presented talks and posters at a number of meetings. The conferences and presentation titles are listed below, as well as links to some of the abstracts.


2006
Picking up the Pieces: The Status of Native Vegetation in the Western San Joaquin Valley. [ABSTRACT]
2005
2004
From wetland to agriculture to upland: large scale restoration of retired agricultural lands in the San Joaquin Valley, California
---
Page created: April 6, 2005; Last updated: July 24, 2006